"While I do train specific commands like Sit, Down, Heel, Come, Stay, these common commands are usually learned as I train other wanted behaviors like for example, loose leash walking. My usual session begins with me asking you how things went since the last session. During that discussion I am usually able to pick out a real life problem that occurred since the last session that the owners may not have even noticed. These unnoticed behaviors can and usually do develop into serious unwanted behaviors if not check early. Generally, I focus my attention on that "new real life problem" throughout the remainder of the session, while incorporating the basics like sit, heel, come or stay at the same time. I prefer to train in the environment the dog is exposed to, however, when I feel the time is right, I also try to take the owner and dog out into the community to deal with real life situations, distractions, sounds, other people and of course other dogs. I try to be social with the owner during a training session, and I always try to make the session fun, positive and educational for everyone including the dog. However, I'm a very serious trainer am usually always focused on the dog, the dogs behaviors or the skill level of the owner while he or she is handling the dog. Sometimes I'm so focused on the training moment that my social etiquette suffers. Please, don't be offended if we are in the middle of talking about the weather while loose leash walking your dog and suddenly I seem to ignor the conversation."
I AM PROUD TO INTRODUCE MY DOG TRAINING AND INSTRUCTION PROGRAM.
THE FOUNDATION OF MY TRAINING CONSIST OF DOG OWNERS
PRACTICING THEIR ABC'S AS WELL AS THEIR ABT'S.
In my view, the younger the better for the quickest, most effective, positive training results. That doesn't mean we can't achieve positive results with an older dog, it just takes longer to get there. If dog owners can understand their dog is ALWAYS LEARNING which means at any given moment, their dog can be learning good habits or bad habits.........Soooooo, dog owners should ALWAYS BE TRAINING, (ABT's), mand while training, it is equally important to ALWAYS BE CONSISTENT, (ABC's). Some owners may deem some unwanted behaviors as minor and acceptable, and in many cases, the owners may not even recognize minor unwanted behaviors. Unfortunately, dogs interpret condoned unwanted behaviors as acceptable behaviors. Dogs owners can and usually do contribute to many if not all of the unwanted behaviors most owners feel are unacceptable.
We need to be flexible enough to address unique issues with some dogs, dog owners and dog trainers while having a consistent and understandable program providing positive, long term results. My Plan is only going to focus on the common characteristics of dog training, owner education and awareness.
I want to acknowledge that sometimes there is a need for specialized training and even medical assistance from a veterinarian for some dogs that will not fit into this "common area of dogs and training" outlined in My Plan. I can and do provide specialized training for dogs requiring it, however most of the information you will find here, is directed more toward the common areas of dog training addressing common wanted and unwanted behaviors.
If your dog requires medical attention from a veterinarian, I encourage you to contact one immediately.
In my view, historically there are 4 common methods of training.
1. The "NO TRAINING" method.
2. The "THE HAND ME DOWN" method.
3. The "CORRECTION & DISCIPLINE." method.
4. The "POSITIVE REINFOREMENT" method.
MY PLAN
My method utilizes the positive attributes found in the previous methods, but then I implement those positive attributes to "MY PLAN." You Could Say My Plan Is A "FIFTH" Method Of Training. While the foundation of it may not be completely unique, I believe the degree of detail that I take it to, is.
I call My Plan,
"POSITIVE REINFORCEMENT, supported by DOG PSYCHOLOGY AND KIND BEHAVIORAL MODIFICATION".
Whenever possible, My Plan focuses on teaching the dog owner as well as their dog…. I believe most dogs learn bad, unwanted behaviors, sometimes intentionally but most often they are accidentally taught. I feel bad behaviors in dogs are usually fueled by their environment and in many instances owners don't realize the things they are doing or not doing, might be the reasons for their dog's unwanted behaviors. Dogs learn best when they are trained with consistency and without unwanted distractions. It's for that reason, I prefer one on one private lessons versus group classes.
Group classes, are better than no training but as an individual dedicated toward helping families and their dogs have a positive, fun and joyful life together, I believe it is best achieved through one on one sessions. There's a time and a place to introduce your dog to other dogs and strangers, but I believe it should be a planned part of the actual training.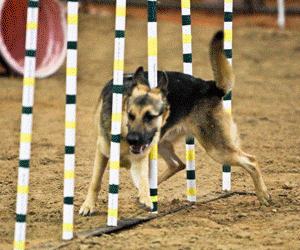 NOTE: I do provide custom, advanced and title training. Some aggression training is also available, but must be evaluated on a one on one basis.
(DO NOT CONFUSE CUSTOM, ADVANCED & TITLE TRAINING WITH MY 1 ON 1 TRAINING SESSIONS)
Interesting Link: https://www.akc.org/expert-advice/training/basic-training/basic-obedience-training-for-your-dog/
Michael Enea